CyberGhost VPN Review – BitTorrent friendly
Who are they? Where are they from?
Cyberghost was founded in Bucharest, Romania and has been providing privacy and security solutions since 2011 with over 15 Million current subscribers.
Their commitment to privacy appears to be ingrained in their company's framework, as they state:
The CyberGhost team is currently formed of over 45 professionals with a strong background in the IT field, based both in Romania and in Germany, the latter being responsible for most of the software development. With both teams united by a common credo for internet anonymity, CyberGhost is a major supporter and promoter of civil rights, a free society and an uncensored internet culture.
Price/ Packages
Package Configuration
Cyberghost currently offers three pricing plans.
1 Month: $10.99 per month
6 Months: $47.94 – $7.99 per month
12 Months: $59.88 – $4.99 per month
Cyberghost offers a 30 Day, money-back guarantee as well as a free version that offers both anonymous browsing and access to censored websites.
Upgrading to the Premium Plus account unlocks the features listed below.
Choose from over 1200 VPN servers in 39 countries
5 devices connected simultaneously
Zero logging of connections
Supports OpenVPN, L2TP, IPSec and PPTP protocols
Anonymous Torrenting with SOCKS5 and HTTP Proxy
Blocks Ads, Virus and Website protection
256-bit AES Encryption
Multiple customer support options
Data compression
Online Tracking Prevention
Payment Options
CyberGhost currently offers payment through the following services.
Major Credit Cards
PayPal
Bitcoin


The Ordering Process
The payment process is quite similar to the normal online shopping process. The credentials for your new VPN account will be sent to you via email and then you can start setting up devices.
Software and Connectivity
CyberGhost VPN currently offers support for Windows, Mac OS X, iOS, Linux, Android clients, Rasberry Pi devices, routers and several other uncommon devices.
Windows Client
The windows client (v.6.0.8.2959) for CyberGhost VPN is colorful and really easy to use. The main window exhibits six easy to understand options that can be activated in two simple steps. The experience was seamless and the interface was transparent enough that even the inexperienced VPN user would feel right at home in an instant.
With the Premium package, options like "Surf Anonymously," "unblock streaming" and "Unblock Basic Websites," are unlocked. As geo-restricted browsing and streaming is one of the main purposes for a VPN, it was a breath of fresh air to see these options already sitting in the forefront.
The server selection process was quite detailed, but still in an easy to understand table. The table can be sorted by "User Load," "Fastest Servers" and "Torrent" to name a few of the options. In addition to the amount of detail, the connection time, IP address, Server and Country currently connected is easy to access and easy to understand.
The Windows client was undoubtedly one of the best features of the VPN. Its design is tailored for the on-the-go user whose main concern is safe, easy and transparent internet use.
Mac OSX Client
The Macbook user interface (v.5.0.15.5) was significantly different from all the other interfaces but none-the-less easy to use. The interface sported one main button to start or stop the VPN service. The other options were to enable privacy, prevent ads, prevent tracking and the typical features that help this product to stand out.
One drawback I noticed with the Mac version is that the interface, while easy to use, was not as intuitive. At one point, I accidentally clicked on "start protection" before signing in.
This offered me the free service, and a new window popped up stating that all servers were full and that I had to wait until the timer in the new window got to 0 in order to get a server. During this waiting period, I could not interact with the VPN application at all unless selected upgrade or closed it completely.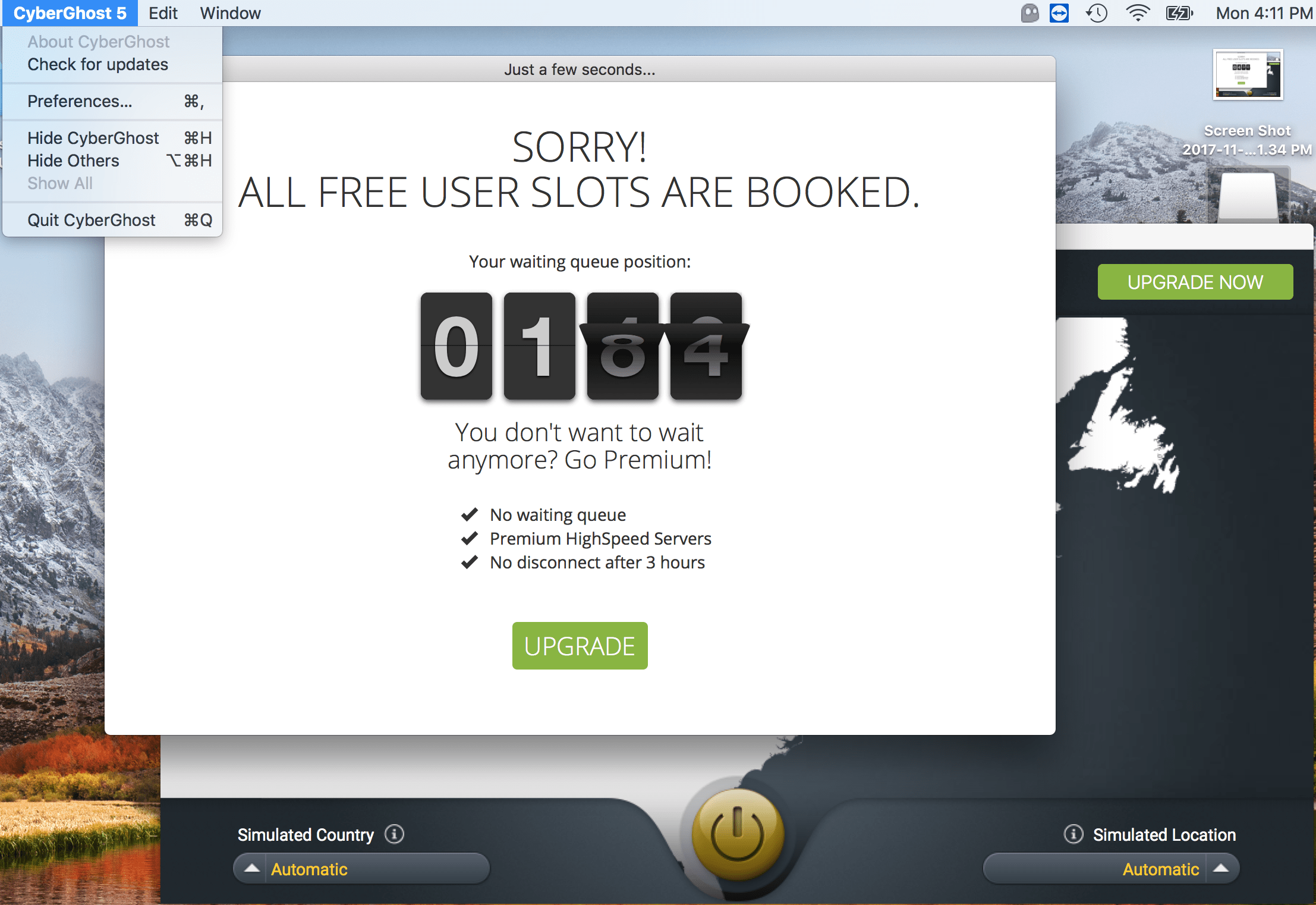 Selecting upgrade would mean automatically opening a web-page to purchase a subscription or login. This is definitely just a programming issue that can be easily rectified, but it can be frustrating for a new user.
Besides this minor drawback, the Mac UI is easy to use as it doesn't require any advanced setup or fiddling to get up and running. They stay true to offering ease of use to their clients.
Linux Client
The Cyberghost application for Linux operating systems are configured a lot differently from the other operating systems and is recommended for users with some technical skills. Despite this, the CyberGhost team do a great job at guiding the setup with step by step instructions and solutions to common issues.
The configuration information must also be changed in the Device Setup page to enable a successful connection. Once enabled, however, we experienced no issues or conflicts with common applications.
Android App
Like the iOS Client, the Android app (v. 6.0.15.104) provides a different but equally intuitive and simplified interface that gets a user connected quick enough to make it a habit. Unlike the iOS application, however, settings could be accessed, even when the "Secure Wifi" and "Anonymous Browsing" services were enabled.
Other features like wireless hotspot security notifications, prove handy in reminding you to secure your data.
iOS App
The Interface for the iOS client (v. 6.8) was significantly different from the Windows client but by no means less user-friendly. The User Interface once opened, revealed, four different options in full-screen mode with a description of the option and the "start" button.
Once, the start button was selected, the user was automatically connected and able to browse, stream and use web services safely and anonymously. The main disadvantage for the iOS user interface is the lack of a "back" button for services like anonymous browsing and secure wifi. The service has to be stopped in order to go back to the main window.
Connectivity Options
Cyberghost offers support for native protocols such as OpenVPN, L2TP, IPSec and PPTP. The VPN also offers guides for enabling the service on various devices such as routers, Rasberry Pi devices, ChromeOS devices and several others. The wide variety of available devices and protocols make this VPN service one of the most flexible of its type.
Speed
Our standard and most reliable testing methods that we found are by downloading from the nearest and fastest HTTP or FTP link for 60 seconds and measuring the average and max transfer rate. Upload and ping tests are performed by the closest beta.speedtest.net server, the most accurate HTML5 speed test thanks to 3000+ servers worldwide.
Speed Testing
[su_tabs] [su_tab title="Results from Canada West Coast"]
The speed test is performed with a 150 / 15 Mbps wired home connection from Shaw Cable, located in Richmond, B.C. Canada. The tests were carried out on various servers in the large list offered by CyberGhost VPN. The servers in the results below are Toronto-S04-l01 and Washington-S04-l01 using the Open VPN UDP protocol.
Download link used: http://mirror.csclub.uwaterloo.ca/ubuntu-releases/xenial/ubuntu-16.04.3-desktop-amd64.iso
Results without VPN
Server Vancouver, BC
Ping 22 ms
Average Upload 13.9 Mbit/s
Average Download 153 Mbit/s
Max Download 178 Mbit/s
Results with  CyberGhost
Server Seattle, Washington, U.S.A.
Ping 100 ms
Average Upload 15.2 Mbit/s
Average Download 4.9 Mbit/s
Max Download 6.49 Mbit/s
Results with CyberGhost
Server Toronto, ON, Canada
Ping 96 ms
Average upload 13.4 Mbit/s
Average download 2.8 Mbit/s
Maximum download 5.32 Mbit/s
The speed tests revealed that a CyberGhost VPN user will notice the decrease in connection speeds, even with servers close to them. The VPN is packaged with an "Extra Speed" feature which proposes to boost the connection speeds. This feature, however, at the time of testing, did not reveal any major difference. Regardless of these cons, the ease of use and autonomy of this application's interface still outweighs the speed tests.
[/su_tab] [/su_tabs]
Servers
CyberGhost offers over 1000 servers in 39 different countries. The user has the ability to choose which server they wish to use within a country and can also be sorted by fastest, most empty and torrent to name a few. Selecting the option "Fastest Server," for example, runs an immediate ping test of all the servers and sorts them based on the fastest response.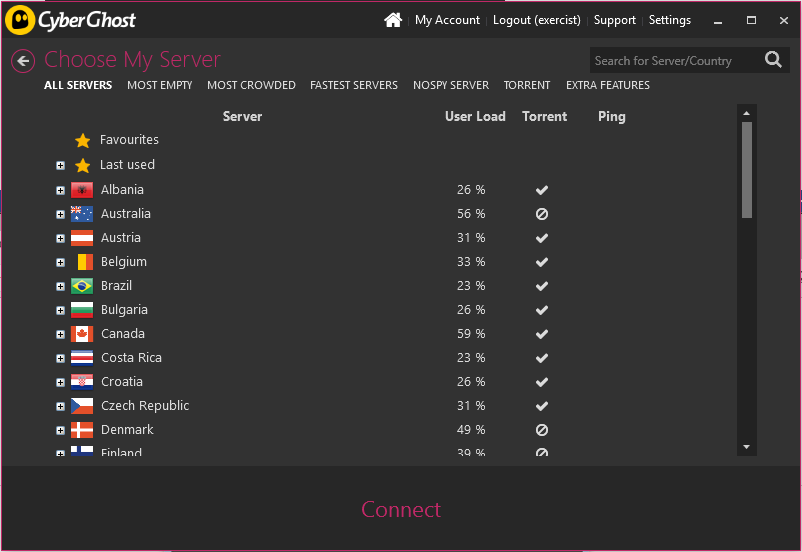 | Country | Country |
| --- | --- |
| Albania | Austria |
| Australia | Bulgaria |
| Brazil | Canada |
| Switzerland | Costa Rica |
| Czech Republic | Germany |
| Denmark | Spain |
| Finland | France |
| United Kingdom | Hong Kong |
| Croatia | Hungary |
| Ireland | Israel |
| India | Iceland |
| Italy | Japan |
| South Korea | Lithuania |
| Luxembourg | Moldova |
| Netherlands | Norway |
| Poland | Portugal |
| Romania | Sweden |
| Singapore | Ukraine |
| United States | South Africa |
Reliability
During the period of testing, there were only minor interruptions in service, specifically when accessing some websites that may flag VPN IP addresses. Downloads were never interrupted, neither was streaming or general web usage.
Level of Privacy
The strict no logs policy referred to by CyberGhost VPN can be verified in their transparency report which provides statistics for the requests received by ISPs and Law Enforcement. They reveal that the requests for privacy-related data have not increased even though the number of users increased from 3.5 Million to 7.5 Million in 2015 alone.
Their regular notifications and various connection protocols also guarantee a safe internet experience and their features such as Ad blocking, Malicious Website blocking, and Online Tracking prevention are bold statements that stand true in most of our tests.
IPv6, DNS and WebRTC IP Leak Test
CyberGhost VPN was tested for IP Leaks at https://ipleak.net. The tests revealed no leakage through WebRTC and IPv6. Different VPN servers were tested, and every server was found to be transparent, not leaking the DNS or ISP.
[su_row][su_column size="1/3″]IPv6: [icon name="fa-check"][/su_column] [su_column size="1/3″]DNS: [icon name="fa-check"][/su_column] [su_column size="1/3″]WebRTC: [icon name="fa-check"][/su_column][/su_row]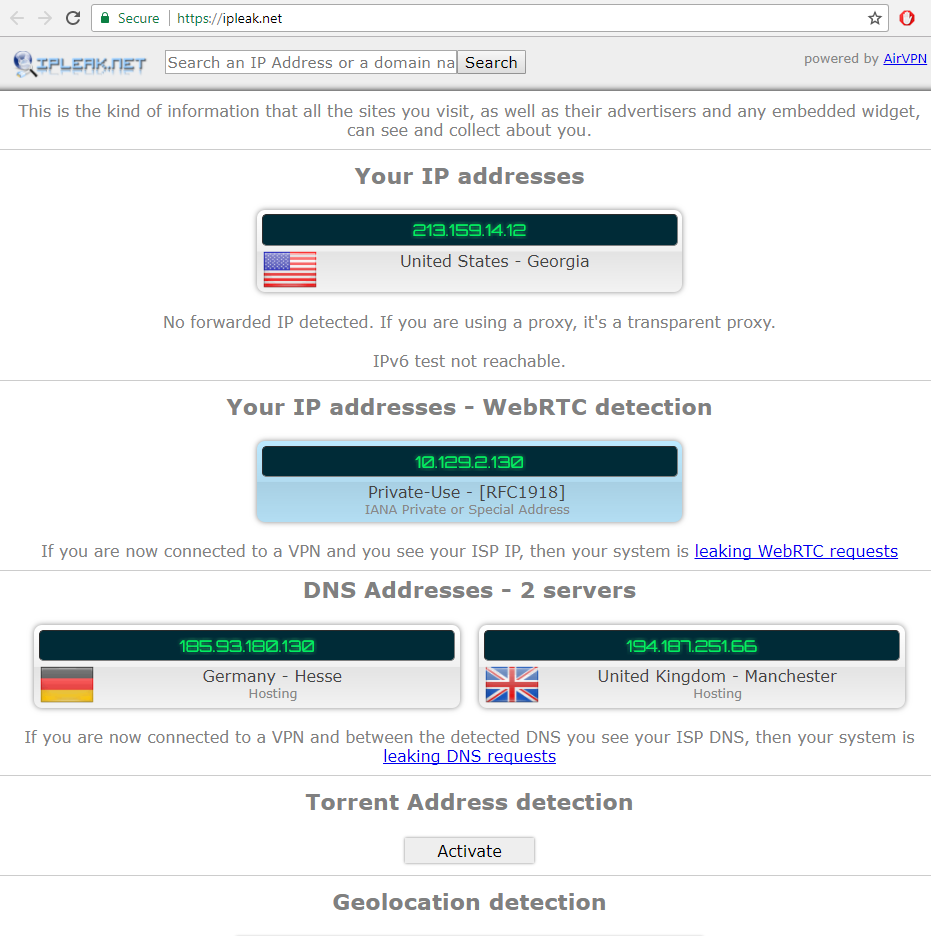 Customer Support
Along with CyberGhost's easy to use UI, the team offers a professional and detailed support page. Their reporting process comes in the form a live chat between 9:00 am and 6:00 PM EET or submitting a request using a web form. The response from the live chat is normally very quick and we have found them to be quite knowledgeable and helpful.