IPVanish Review & Coupon | Torrent Friendly
IPVanish

Who are they? Where are they from?
IPVanish's words:
IPVanish was officially launched at the beginning of 2012. The international team behind IPVanish, however, has been together for over 15 years and includes some of the absolute best networking and security minds in the world. During that time, they've accomplished huge network, content delivery and security feats and have built and managed over 2,200 Gbps of average sustained traffic.

This is an extremely knowledgeable, high performance and passionate group that is today solely focused on delivering faster, more secure and more reliable VPN service than any other provider. Sophisticated 3rd party testing shows also that IPVanish delivers the fastest VPN encryption throughput speeds (much faster in many cases) among all providers in the industry.

IPVanish's mission is to protect individual's right to online freedom and online anonymity by delivering the best VPN service in the world at the best price, period. We are US based.
Price / Packages
Package Configuration
Three pricing plans are currently offered and they all have the same features below.
World's fastest VPN network
Torrent friendly with SOCKS5 proxy
Hide behind 40,000+ shared IPs
1600+ servers in 75+ countries
Zero logging of connections
OpenVPN, PPTP, and L2TP/IPsec protocols
10 simultaneous connections on multiple devices
24/7 Live Chat customer support
7-day Money Back Guarantee
The Ordering Process
According to IPVanish:

To test their claim, we ordered a package with Paypal. In this case, we were only asked to enter a username, password, and email address. After submitting my info and making the payment, the VPN access details appeared in my inbox.
Payment Options
As far as payment methods, PayPal, all major credit cards, and World Pay (i.e., iDeal, giropay, etc.) are accepted. Bitcoin (Bitpay) support has been added as well.

Packages
Software & Connectivity
IPVanish currently offers Windows, Mac OS X, iOS, and Android clients. The VPN clients make it easy to connect since you don't have to configure much. But the biggest advantage is that you can easily switch between servers.
Windows Client
The tested client v3.0.10 is stable and did not present any issues on Windows 10 x64. Once you open the client, it will ask you for your login and password. The list of servers is presented in a clean and easy-to-use interface.
You can filter by city, country, protocol, and latency. If you want to connect to a server in London, type "London" to see all servers in London instead of searching and scrolling through the list. All there is left to do is double-clicking the location and confirming the connection.
If multiple servers are available in a city, click the circle with a number inside it to expand and see all the individual servers with their load. Once connected, it will show you the city, country, and IP address. You can choose between OpenVPN (TCP), OpenVPN (UDP), L2TP & PPTP protocol.
You can check the connection log and your current IP address location on the map. There's the option to automatically connect to the last used server, closest server by network latency, or a server of your choice with the desired protocol when IPVanish starts. Right-clicking the taskbar icon will present you with "Disconnect", "Connect", "Status", "Current IP", "Change IP", "Show Window" and "Exit".
OS X Client
Not able to test due to unavailability of an OS X device. The software is streamlined across all platforms so it's very similar to the Windows client.
Android App
The IPVanish Android app v3.0.13.987 has been tested on Android 6.0 without any issues. You can choose the OpenVPN TCP/UDP protocol. There is a "Scramble" option that adds obfuscation capability to OpenVPN, allowing it to bypass network traffic sensors that aim to detect a VPN's usage and block it. You can choose between port 443 and 1194 while also having the possibility to automatically change your IP address every 45, 60, or 90 minutes.
The server list can be sorted by country, city, server, and ping. When connected, your current download/upload speed is shown in a graph, along with the server connection info. The speed is also shown in the notification bar.
iOS App
The IPVanish iOS app v3.0 has been tested on an iPhone 6 running iOS 10.1 without issues. You can choose between the IPSec and IKEv2 protocol. Everything else is pretty much identical to the Android app, except for the lack of OpenVPN. Due to the limited nature of iOS, there are fewer configuration options compared to Android.
Connectivity Options
They offer PPTP, L2TP, and OpenVPN. OpenVPN has UDP and TCP options on ports 443 and 1194 with the "Scramble" option. When using applications such as BitTorrent, where many connections are made, OpenVPN UDP protocol is recommended. The TCP protocol has a connection limit, so your VPN connection can be dropped when too many connections are made.
What's even better for torrenting is to use the included IPVanish SOCKS5 proxy. Since you can connect 10 simultaneous devices, they are a leader in this field. We, therefore, could simultaneously connect an Android phone and a desktop computer without issues.
Speed
Our standard and most reliable testing methods that we found are by downloading from the nearest and fastest HTTP or FTP link for 60 seconds and measuring the average and max transfer rate. Upload and ping tests are performed by the closest beta.speedtest.net server, the most accurate HTML5 speed test thanks to 3000+ servers worldwide.
Speed Testing
The test is performed with a 300 / 30 Mbps cable connection in the Amsterdam area. For the download speed test, a Ubuntu ISO is downloaded from the University of Twente, The Netherlands. Keep in mind that the max upload speed is only 30 Mbps, so it does not mean the VPN can't go faster.
Ping is performed on the server, University of Twente, The Netherlands.
Download link used: http://ftp.snt.utwente.nl/pub/os/linux/ubuntu-releases/16.10/ubuntu-16.10-desktop-amd64.iso
These results are achieved with the OpenVPN (UDP) protocol. Other protocols reach much lower speeds in our testings. On average, most servers get around 100 – 200 Mbps, depending on the server load. The speed is mostly stable.
Results without VPN in the Netherlands
Server Ziggo
Ping 10
Average upload 31 Mbit/s
Average download 314 Mbit/s
Maximum download 321 Mbit/s
Results WITH VPN in the Netherlands – Dutch server
Server Netherlands, ams-a02
Ping 12
Average upload 30 Mbit/s
Average download 190 Mbit/s
Maximum download 202 Mbit/s
Results SOCKS5 proxy in The Netherlands
Download link used: http://ftp.nluug.nl/os/Linux/distr/ubuntu-releases/16.10/ubuntu-16.10-desktop-amd64.iso
Server ams.socks.ipvanish.com
Ping 32
Average upload 30 Mbit/s
Average download 308 Mbit/s
Maximum download 309 Mbit/s
The SOCKS5 proxy is recommended if you want to download/upload torrents or HTTP traffic with maximum speed. You will need a browser extension like FoxyProxy for Firefox/Chrome to use the SOCKS5 while browsing. While it is not encrypted, a SOCKS5 proxy masks your personal IP address while you make P2P and VoIP connections. This ensures you download without exposing your IP address while enjoying the minimum speed hit.
Servers
40,000+ IPs on more than 1600+ servers in 75+ countries while new servers are added daily. At the time of writing, the following server locations are available:
Server Locations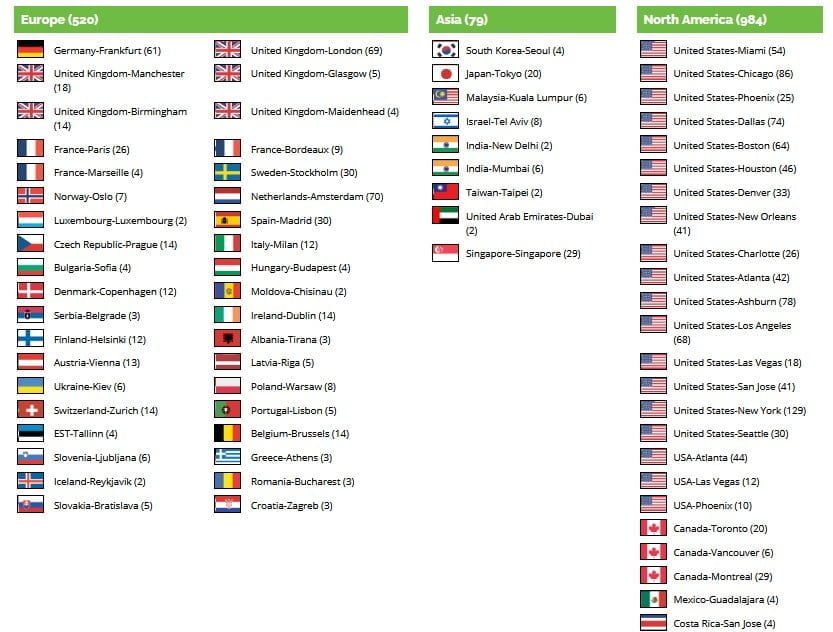 Reliability
The connections are made quickly and remain stable. We have not experienced a single connection drop. PPTP protocol connects the fastest, but it is less secure and has a lower throughput. When you are logged in to your IPVanish account and click on "server list", you will get to see all the available servers and their status (server load).
Level of Privacy
IPVanish logging policy: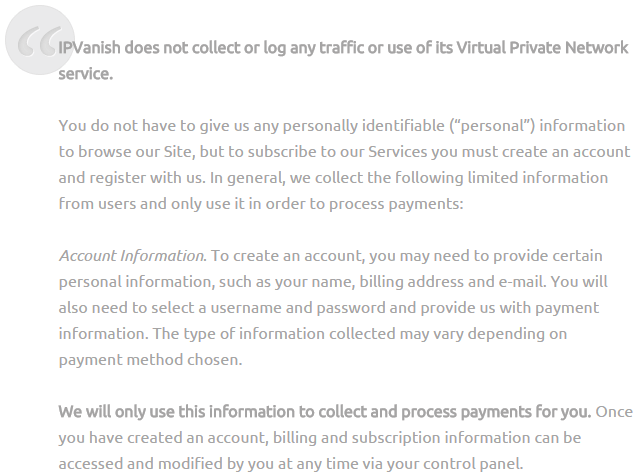 They claim they're not logging anything when you're using the VPN. IPVanish VPN has shared IP addresses, meaning there can literally be 20 people using 1 IP address (without compromising your own speed and security). A shared IP address makes it nearly impossible to single out any one person's web activity.
But despite all these claims and technology, IPVanish was involved in a logging scandal in which they handed over logs to the US authorities. So much for trust and privacy.
IPv6, DNS and WebRTC IP Leak Test
We tested for IP leaks at https://ipleak.net. IPVanish did not leak your IP through WebRTC and IPv6. It also did not leak the DNS address of our ISP. This is consistent with company claims.
Support
IPVanish started a Live Chat Support Service since June 2 2018:
You spoke, and we listened! For weeks, we've quietly tested live chat customer support on our sign-up and cancellation pages. Now, the time has come to bring IPVanish live chat support site-wide. Users can get in touch with a member of our in-house customer support team through live chat 24/7.
Their FAQ's will answer most of your questions and the VPN Setup provides all the configuration steps you might need. The support forum can be of help as well.
With Live Chat, you get, of course, instant replies, but we also contacted them by email and got a friendly and quick reply within 70 minutes.
FAQ
Can IPVanish be trusted?
No. IPVanish provided customer logs to the US authorities a couple of years ago, despite that they claimed not to keep any logs.
Can IPVanish unblock Netflix?
No. u003Ca class=u0022wpil_keyword_linku0022 href=u0022https://incognitoline.net/unblock-hulu-netflix-pandora-and-more-without-a-proxy-server-or-vpn/u0022 title=u0022Netflixu0022 data-wpil-keyword-link=u0022linkedu0022u003ENetflixu003C/au003E has blocked IPVanish, like several other VPN services.
IPVanish how to choose best server?
You can filter IPVanish servers by city, country, protocol, and latency. This makes it easy to find the best server for your needs.
Pros
Great speeds & stability
Large amount of servers worldwide
Cons
Low privacy. Were involved in a customer data/logs sharing scandal
Netflix blocked IPVanish
IPVanish
Spring Into Security with VPN Protection
Secure your internet connection and shield your private data today