Unblock Hulu, Netflix, Pandora and More Without a Proxy Server or VPN

Say hello to Hola! The Hola Unblocker is a free application that unblocks sites like Hulu, Netflix, Pandora, ITV, CBS, FOX, Youtube, Facebook and others. Install Hola on your PC, phone or tablet to make your Internet faster, to save data costs, and to be able to view sites that are otherwise censored. Unblock Hulu now!
It benefits all the users by sharing the users idle resources. The more Hola users, the faster the Internet will be! You may enjoy faster Internet (on many sites) but don't expect anything spectacular, it depends on many factors.
What Hola claims to do:
Media anywhere, watch movies and play music blocked in your country

Censorship bypass, visit sites blocked by your country, company or school
Video accelerator, no buffering of HD videos
Download booster, download files faster
Pause and resume, continue broken or paused downloads
What Hola does NOT do:
Your IP address is not hidden so no anonymous proxy surfing as claimed by Hola
Your online traffic is not encrypted so you are exposed to many risks
It does not unblock all sites like BBC and others
In short, Hola gives you the benefit to watch geo restricted sites like Hulu without using a VPN or Hulu proxy server. However, you will need a VPN service provider to be anonymous and unblock all sites.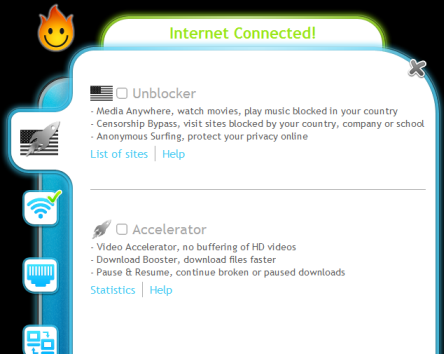 Which operating systems and devices can I use Hola on?
Hola application (Internet accelerator and unblocker):
– Hola for Android for 2.3 to 4.0+ devices.
Click here for more info
Hola browser extension (Does not include Internet acceleration):
– Hola Extension for Chrome for all (non mobile) operating systems that run Google Chrome (version 22+), including Windows, Mac OS X, Linux and Chrome OS.
– Hola Extension for Firefox for all (non mobile) operating systems that run Mozilla Firefox (version 12+), including Windows, Mac OS X, and Linux.
– Apple: For MAC use the Hola Chrome Extension or Firefox Extension (Does not include Internet acceleration). iPhone/iPod are not supported.
Keep in mind that this is a free service without guarantees. You might experience slow internet at times or some blocked sites are not unblocked anymore. In any case simply temporary turn off your Hola extension/app if you experience internet issues.