uTorrent VPN and SOCKS5 Proxy Setup with IPVanish
uTorrent and VPN are two things that should be inseparable from each other, like cars and seatbelts. Why we state this so boldly, find out below.
BitTorrent is a popular P2P (peer-to-peer) file sharing protocol that allows you to easily download large files. A simple and efficient way of downloading.
Is uTorrent safe to use?
The downloaded content files are stored on users computers and are shared with all connected peers. Anyone can see your IP address and target you for a multitude of reasons. If your operating system is vulnerable, it can be exploited.
The copyrighted works you (unknowingly) download can result in hefty fines from the copyright holders. Thousands of p2p users have been sued over the past two decades. Firms are being hired to monitor and collect who is downloading what.
Many VPN services log your activity and do NOT allow p2p traffic. Ad-supported VPNs which are advertised as "free", often log your data and sell it to third parties.
Don't play Russian roulette.
Choose by speed & logging policy
Check out our extensive test of the best VPNs for torrenting.
Is VPN for uTorrent needed?
If you still wonder why torrenting without a VPN is asking for trouble, read on.
VPN hides your IP-address and encrypts all the transmitted data. This also protects you from ID-thieves and other cybercriminals that, for example, would like to steal your payment information.
IPVanish is one of these leading VPN-providers and for many years delivered top results in most of the tests we carried out.

Check out our IPVanish examination.
IPVanish SOCKS5 proxy configuration with uTorrent
Professional VPN services offer SOCKS5 proxy anonymity, which restricts your download speeds less than VPNs but at the same time still offers a decent level of security. SOCKS5 does not encrypt the transmitted data, but your IP address is hidden, which is fine in most cases.
In order to set up your IPVanish SOCKS5 proxy with uTorrent or a similar BitTorrent client, you need to get your IPVanish SOCKS5 proxy username and password by logging into your account and selecting the SOCKS5 Proxy tab.
In comparison with VPN,  this is all you have to do to start working with uTorrent or another P2P program via the SOCKS5 proxy.
uTorrent configuration
Open uTorrent
Go to 'Options' and 'Preferences'
Click 'Connection' (left side menu)
In the 'Connection preference' you need to configure the following:

All four 'Listening Port' checkboxes need to be unchecked
The 'Authentication' checkbox needs to be checked
Select Proxy Server type: Socks5
Type in the Proxy box: ams.socks.ipvanish.com
Type in the Port box: 1080
Type in the Username box your IPVanish Proxy username
Type in the Password box your IPVanish Proxy password

Click 'OK' in the lower menu bar.
Restart uTorrent for the changed preferences to take effect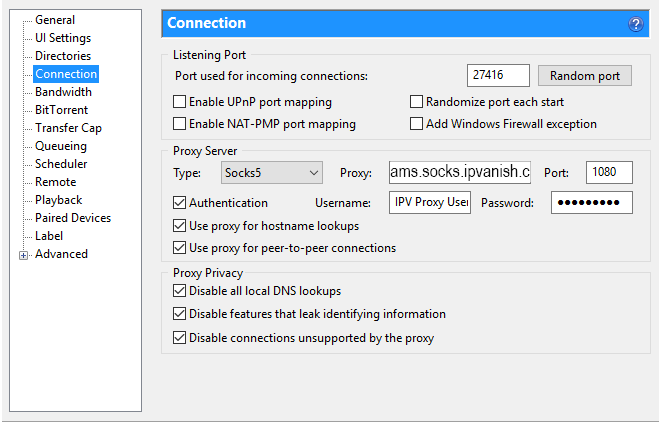 Disable rate limit and bandwidth settings
If your torrent download speed is unnaturally low or if you cannot download altogether, we recommend checking your rate limit and bandwidth settings. Turn off your uTorrent rate limit by unchecking the checkbox "Apply rate limit to uTP connections" in "Options", "Preferences" and "Bandwidth".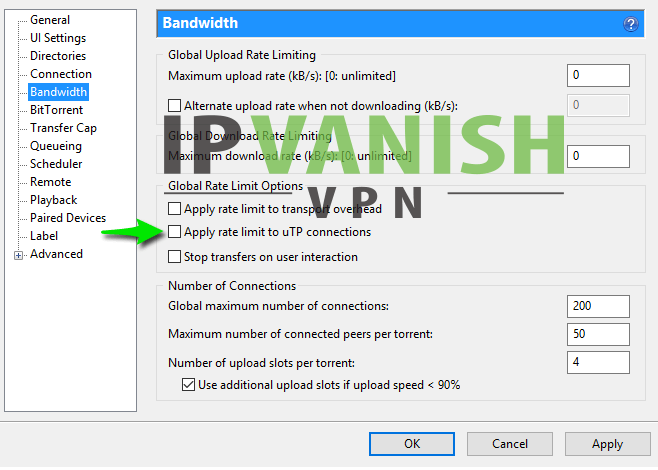 Your bandwidth management should also be turned off. To do this uncheck "Enable bandwidth management [uTP]" in "Options", "Preferences" and "BitTorrent".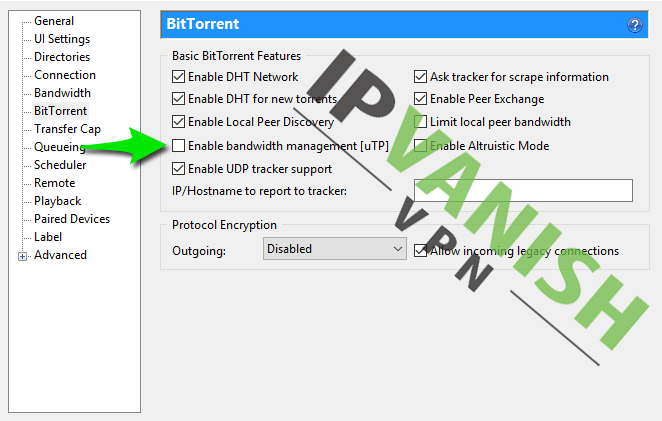 Don't take any risks and torrent on safely
Setting up your SOCKS5 proxy with uTorrent was easy, right? The speeds are so good that you won't even notice its presence. With shitty VPN services, you will encounter substantial speed reduction and many free VPN providers don't allow torrenting at all.
We already compared VPN with the seatbelt in your car. That was a safety measure for which you had to pay but of which initially many people didn't see the need. However, when more accidents occurred, the automotive seatbelt became something completely obvious to everyone.
You now know, torrenting exposes you to many risks but watching Popcorn Time without a VPN and even Kodi without VPN is high-risk, too.