ExpressVPN Review | Torrent Friendly
ExpressVPN
Who are they? Where are they from?
ExpressVPN's words:
ExpressVPN is a leading VPN service provider enabling users worldwide to safely and anonymously browse the web. With 3000+ servers across 94 countries and new servers added each week, ExpressVPN offers a comprehensive reach and provides uncensored access to international websites. The company's award-winning apps for Windows, Mac, iOS, Android, Routers, and Linux preserve customer privacy and provide best-in-class internet security.

Headquartered in the British Virgin Islands with staff worldwide, ExpressVPN has been operating since 2009 and today is one of the world's largest providers of premium VPN services. A vocal advocate for internet freedom and privacy, ExpressVPN is a proud financial supporter of nonprofit organizations fighting to protect these rights. ExpressVPN continues to grow its customer base and service offerings as an ever-greater number of people are adopting critical online security tools.
Price / Packages
Package Configuration
ExpressVPN includes the same feature, regardless of the pack we choose.
24/7 customer support by Live Chat
3000+ Ultra-fast servers in 94 countries
Apps for Windows, Mac, iOS (iPhone and iPad), Android, and Linux
Best-in-class security & encryption
Unlimited bandwidth & server switches
30 Days Risk-Free. Not satisfied? Get your money back, no questions asked.
The Ordering Process
To order a package, you are asked to enter your email address. You will then go to the payment page. When all requested data has been entered and sent, ExpressVPN will send an email with login information.
Payment Options
ExpressVPN supports different Credit Cards (VISA, Mastercard, American Express…), PayPal, Bitcoin and Paymentwall.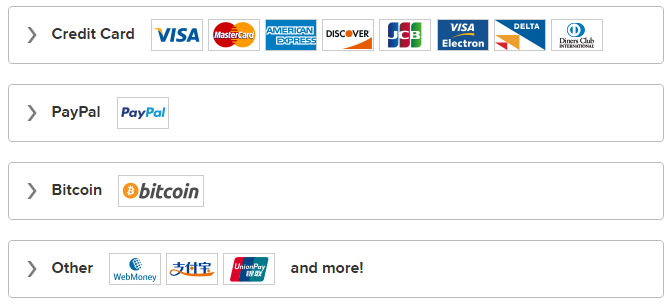 Packages
1 Month: $12.95
6 Months: $59.95 – $9.99 per month
12 Months: $99.95 – $8.32 per month

Software & Connectivity
ExpressVPN offers Windows, Mac, iOS (iPhone and iPad), Android, and Linux clients. The essence is kept in the different versions, with few configuration options and ease of use.
Windows Client
We tested ExpressVPN v6.1. Once we installed the software and activated the product, we didn't have to log into the application. The interface is intuitive, with the option to turn on and off the VPN as the main option.
Before you turn on the VPN, you can take advantage of the speed test included to see the servers which will better fit your needs. Furthermore, you will be able to change the preferences.
If you click the Choose Location button, you can select the country (and specific server if there's more than one). Also, it provides a Smart Location function, which will select the server for you. The list is divided into tabs make it easy.
When picking protocols, you can choose between:
OpenVPN (UDP)
OpenVPN (TCP)
IPSec (L2TP)
PPTP
SSTP
Auto choice
Each one has its own features, and some servers will only be available when using a specific one. General options are a startup option, a Network Lock, and account settings. The advanced tab has only a DNS setting and a Diagnostic Data option.
The program works nicely on Windows 10 (64 bits), installation sometimes seems to crash, but you have to wait till it ends.
Showing the server load in the list would be a welcomed addition.
Android App
App version 6.1.9 has been tested on the Samsung Galaxy S7 Edge, running Android 6.0.1. The main interface looks the same as on the tested Windows client. The biggest difference is the lack of options. You can only select the OpenVPN (UDP or TCP) protocols.
There's no kill switch or auto-reconnect, so you will continue to be connected without a VPN and possibly expose yourself if the VPN connection drops. You can search servers by country or city and ping all the servers in the list. There is no way to sort the list by ping, which would have been handy. But worse, no server load is shown.
iOS App
Not able to test at the moment due to the unavailability of an iOS device. It's assumed the iOS app is very similar to the Android one.
Connectivity Options
As mentioned before, the Windows software supports OpenVPN (UDP), OpenVPN (TCP), IPSec (L2TP), PPTP, SSTP as protocols. Some programs, such as BitTorrent-based applications, require many connections, so using OpenVPN UDP is highly recommended when, for example, the TCP wouldn't work okay as too many connections are being made. No problems in connectivity have been detected in our tests.
Speed
Our standard and most reliable testing methods that we found are by downloading from the nearest and fastest HTTP or FTP link for 60 seconds and measuring the average and max transfer rate. Upload and ping tests are performed by the closest beta.speedtest.net server, the most accurate HTML5 speed test thanks to 3000+ servers worldwide.
We also tested the built-in speed test in the ExpressVPN software. However, those speed tests are unreliable due to the short testing period of many servers.
Speed Testing
We used two different PCs, both connected by cable. One is located in Madrid, Spain, and the other in The Hague, Netherlands. Both locations are connected with a 300/30 Mbps cable connection.
Results without VPN in The Hague, the Netherlands
Download link used: http://ftp.snt.utwente.nl/pub/os/linux/ubuntu-releases/16.10/ubuntu-16.10-desktop-amd64.iso
Your IP address, Ziggo
Nearest testing server The Hague
Ping 10 ms
Average upload 3,79 MB/sec
Average download 30,1 MB/sec
Maximum upload 3,35 MB/sec
Maximum download 32,2 MB/sec
Results WITH VPN in The Hague, the Netherlands – Dutch server
Your IP address 31.204.150.253, i3d.net
Nearest testing server The Hague
Ping 10 ms
Average upload 30 Mbit/s
Average download 84.3 Mbit/s
Maximum upload 31 Mbit/s
Maximum download 231 Mbit/s

Results without VPN in Spain
Download link used: http://ftp.udc.es/ubuntu-releases/16.10/ubuntu-16.10-desktop-amd64.iso
Your IP address, Telefonica de Espana
Nearest testing server Madrid
Ping 3 ms
Average upload 3,79 MB/sec
Average download 27,3 MB/sec
Maximum upload 3,88 MB/sec
Maximum download 32,3 MB/sec
Results WITH VPN in Spain – Spanish server
Your IP address 192.162.26.2, Sologigabit
Nearest testing server Madrid
Ping 63 ms
Average upload 608 KB/sec
Average download 1,25 MB/sec
Maximum upload 2,50 MB/sec
Maximum download 2,03 MB/sec
Note: that it is in MB per second, not Mb per second. 1 MB/sec= 8 Mb/sec.
It doesn't matter which server is chosen; the download speed seems capped at 84 Mbit/s but is stable and consistent experience.
With the built-in speed tests performed with ExpressVPN, we got lower speed (inaccurate) but similar in general. It seems like being near the server (physical distance, meaning the country) means a lot, but the top speed isn't super high, but still enough for heavy tasks like streaming and downloading.
Servers
ExpressVPN provides 160 different server locations in 94 countries and adding more every month. 3000+ is a great number of servers if you compare it to IPVanish. This was the server location list at the time of writing.
Server Locations
Reliability
The software allows you to connect quickly to every server, no matter how far they are. It is stable (we haven't experienced drops), and the speed is constant, even when connected with multiple devices such as your Android, iOS, OSX, and Windows ExpressVPN clients.
Level of Privacy
The ExpressVPN logging policy states that they won't collect or log traffic data when connected to the VPN. The information we provide, like email and payment information, will be stored but never shared unless necessary for the service. They use this info to contact or help you.
They specify the data they may collect to improve the speed and stability. Their website uses cookies and website analytics tools to track sales ads and understand which pages on the site receive visitors to know their target audience.
The software doesn't require you to log in and can be used by several people simultaneously, so we are safe using it to hide our internet activities.
IPv6, DNS and WebRTC IP Leak Test
We tested for IP leaks at https://ipleak.net. ExpressVPN did not leak our IP through WebRTC and IPv6. It also did not leak the DNS address of our ISP. This is consistent with company claims.
Support
ExpressVPN provides 24/7 support in three different ways: Contact Form, Live Chat, or email. The Live Chat gets you an instant response but may lead to a less detailed answer. The other methods may take a few hours to respond, but on the other hand, they can provide more personal and technical help.
Apart from that, they have tutorials and a troubleshooting section which may solve our problem, in case we have one. At least, during our test, we haven't had.
FAQ
Can ExpressVPN bypass Netflix?
ExpressVPN can bypass u003Ca class=u0022wpil_keyword_linku0022 href=u0022https://incognitoline.net/unblock-hulu-netflix-pandora-and-more-without-a-proxy-server-or-vpn/u0022 title=u0022Netflixu0022 data-wpil-keyword-link=u0022linkedu0022u003ENetflixu003C/au003E, Hulu, BBC, Spotify, and more. You can stream videos and music with privacy.
How many devices at once with ExpressVPN?
You can install ExpressVPN on any number of devices, including computers, tablets, phones, routers, and browser extensions.
Where is ExpressVPN based out of?
ExpressVPN is based on the British Virgin Islands, which has stricter laws concerning information disclosure than most countries.
Pros
Number of locations
Ease of use
Performance (stability)
No IP leaks
Cons
The speed is capped and was not that fast
The built-in speed test isn't really reliable
A bit pricy
ExpressVPN
Don't let anyone see your internet activity
Browse online with greater anonymity with the #1 trusted VPN Today