NordVPN Review | Torrent Friendly
NordVPN

Summary
NordVPN has VPN servers in 59 countries and is the best VPN service if you are looking for peace of mind when on public wifi. Get secure access to personal information or work files, encrypt your internet connection and keep your browsing history private. Buy a VPN for online privacy and security from a trustworthy VPN provider.



Who are they? Where are they from?
NordVPN's words:
NordVPN was born in 2012 when four childhood friends came together to build technology to liberate the Internet. Spending a lot of time in different parts of the World, they grew tired of seeing censorship, content control, and government agency surveillance becoming intrusive. The feeling that the internet was losing its main purpose led to the search for possible solutions to overcome all the restrictions.

After setting up the first VPN server and sharing the prototype among their friends, NordVPN creators started receiving extremely positive feedback and were encouraged to continue their work. That's how NordVPN was born, now serving more than 200,000 people worldwide.

Over the years, NordVPN became a trusted online security solution used by thousands of internet users worldwide. Meanwhile, NordVPN also became recognized by the most influential tech sites and IT security specialists. It is now one of the most trusted privacy and security service provider in the World, recognized for the strongly held values and well-thought-out features.
Price / Packages
Package Configuration
Each package provides the same features, listed below, which are:
Strict 'zero logging' policy
Custom software for Windows, OS X, iOS, Android, Chrome and Firefox
Connect up to 6 Devices under one account
5400 servers in 59 countries (Updated regularly)
Double VPN for increased anonymity
IKEv2/IPsec, OpenVPN, PPTP, L2TP, IPSec security protocols offered
Customer Support (24/7) via Ticket system, Facebook, Twitter or Email
The Ordering Process
To order a package, you are asked to enter your email address. You will then be taken to the payment page. When all requested data has been entered and sent, an email with login information will be sent to your email address.
Payment Options
The company supports different Credit Cards (VISA, Mastercard, American Express, Discover…), PayPal, Bitcoin, and more.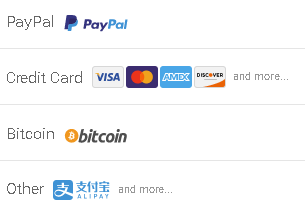 Packages
1 Month: $11.95
1 Year: $59.00 – $4.92 per month
2 Years: $89.00 – $3.71 per month

Software & Connectivity
NordVPN supports many operating systems like Windows, iOS (iPhone, iPad), OS X, Android, Linux, and Blackberry. Its essence is kept in the different versions, with little configuration options and ease of use. All versions are provided with the same interface, so using this software on different devices won't be a problem.
Does NordVPN work with Netflix?
The all-new feature SmartPlay lets you access, amongst others, Netflix, Hulu, Amazon Prime, and other popular streaming services, 150 in total, bypassing geo-restrictions.
Recently added is the adjustable Kill Switch for killing individual processes or the whole internet connection and a CyberSec adblocker that blocks dangerous websites and protects users from annoying ads. The newly added restricted countries option works with obfuscated servers in countries with internet restrictions like China and some Middle East countries, providing unrestricted internet access.
Windows Client
The tested client v6.0.0 is stable and did not present any issues on Windows 10 x64. Once we have activated the product with the code we are given, we will have to log in for the first time using the email and password we provided when paying. After this, we won't have to log in again if we set the program to remember the account.
The interface is intuitive, with a map showing the servers available in your country and continent, the button to turn on the VPN and the settings tab. The software does provide a speed test when we are connected to a server, but, as they use to be, it is pretty unreliable. It also has a "Connection Wizard" option, to connect us to the best server possible.
You can also see the server list, divided into tabs, which recommend servers depending on the function to fulfill (Peer To Peer, Anti DDOS, Dedicated IP Servers) or simply check the servers per country. We can just see Server Load and Distance before connecting, and adding Expected Speed would be nice.
When picking protocols, we can choose between OpenVPN (UDP) and OpenVPN (TCP), with the first one being recommended. We can also enable (or disable) Notifications (for Windows 10), Automatic Updates and Auto Connect from the options menu.
Other options displayed that can be enabled or disabled are the Automatic Updates, Auto Connect, Notifications…
The program works fine on Windows 10 (64 bits), installation sometimes seems to crash, but you just have to wait till it ends. Sometimes it fails when you try to connect to a specific server, but you just have to change and it will work.
Android App
Version 1.9.4 has been tested on Samsung Galaxy S7 Edge running Android 6.0.1. It looks and works very similarly to the Windows client, so it's a streamlined experience. As you can see the server load is displayed as well and you can take advantage of your saved favorites.
The main difference with the Windows client is the lack of the more advanced options. You can still choose to connect with OpenVPN UDP or TCP. Last but not least, you can auto connect to a specific server on boot.
iOS App
Not able to test at the moment due to the unavailability of an iOS device. It's assumed the iOS app is very similar to the Android one.
Connectivity Options
As mentioned before, the Windows software supports OpenVPN (UDP) and OpenVPN (TCP) as protocols (all the advertised protocols are available through config files in the download area, but only OpenVPN is supported in the application). Some programs, such as BitTorrent-based applications, require many connections, so using OpenVPN UDP is highly recommended, when, for example, the TCP wouldn't work okay as too many connections are being made. No problems in connectivity have been detected in our tests related to protocols.
Speed
Our standard and most reliable testing methods that we found are by downloading from the nearest and fastest HTTP or FTP link for 60 seconds and measuring the average and max transfer rate. Upload and ping tests are performed by the closest beta.speedtest.net server, the most accurate HTML5 speed test thanks to 3000+ servers worldwide.
Speed Testing
We used different PCs for the tests, one connected in Madrid, Spain and the other in Amsterdam, the Netherlands. In Spain, a 300/30 Mbps fiber connection is used. In the Netherlands, a 300/30 Mbps cable connection is used.
After these below tests we were contacted by NordVPN and they informed us that they recently have improved their speeds significantly and also optimized their quick connect algorithm. So wait for an updated test with the new features.
Results without VPN in The Hague, the Netherlands
Download link used: http://ftp.nluug.nl/os/Linux/distr/ubuntu-releases/16.10/ubuntu-16.10-desktop-amd64.iso
Server Ziggo
Ping 9 ms
Average upload 31 Mbit/s
Average download 309 Mbit/s
Maximum download 321 Mbit/s
Results WITH VPN in The Hague, the Netherlands – Dutch server
Download link used: http://ftp.nluug.nl/os/Linux/distr/ubuntu-releases/16.10/ubuntu-16.10-desktop-amd64.iso
Server Netherlands #6
Ping 10 ms
Average upload 30 Mbit/s
Average download 48 Mbit/s
Maximum download 86 Mbit/s
Results WITH VPN in The Hague, Netherlands – UK server
Download link used: http://ftp.nluug.nl/os/Linux/distr/ubuntu-releases/16.10/ubuntu-16.10-desktop-amd64.iso
Server United Kingdom #53
Ping 19 ms
Average upload 30 Mbit/s
Average download 198 Mbit/s
Maximum download 221 Mbit/s
Results SOCKS5 proxy in The Netherlands
Download link used: http://ftp.nluug.nl/os/Linux/distr/ubuntu-releases/16.10/ubuntu-16.10-desktop-amd64.iso
Server nl15.nordvpn.com
Ping 10 ms
Average upload 30 Mbit/s
Average download 145 Mbit/s
Maximum download 231 Mbit/s

Results without VPN in Spain
Server Adamo
Ping 3 ms
Average upload 29 Mbit/s
Average download 283 Mbit/s
Maximum download 318 Mbit/s
Results WITH VPN in Spain – Spanish server
Download link used: http://ftp.udc.es/ubuntu-releases/16.10/ubuntu-16.10-desktop-amd64.iso
Server Spain #5
Ping 63 ms
Average upload 320 Kbit/s
Average download 28 Mbit/s
Maximum download 29 Mbit/s
Results WITH VPN in Spain– UK server
Download link used: http://ftp.udc.es/ubuntu-releases/16.10/ubuntu-16.10-desktop-amd64.iso
Server United Kingdom #53
Ping 42 ms
Average upload 31 Mbit/s
Average download 156 Mbit/s
Maximum download 188 Mbit/s
At the time of testing in early 2017, this was the fastest speed recorded but was mostly unstable and unpredictable due to high server load. NordVPN has recently improved the load balancing on their servers and the speeds are stable but lower in 2018.
Generally, we don't get blazing fast speeds of 100+ Mbps, especially compared to IPVanish, but it is definitely good enough when you pick the right server and you can mostly enjoy speeds between 50 – 120 Mbps.
On the plus side, the SOCKS5 proxy is pretty fast and most of their VPN servers support it, so your chances of hitting a higher speed are huge.
Servers
NordVPN provides over 5400 different servers in 59 countries, a number that is updated regularly. They have a great number of servers in each country, so the distance to a server won't be a problem when using the software. Even though the number of countries is a little bit low, it's growing.
Server Locations

Reliability
While using NordVPN, we experienced some problems when trying to connect to some servers, even when they weren't full. However, this has only happened a couple of times, and the rest of the time we have had a solid experience. No connection drops, even when connected to multiple devices simultaneously (up to six), such as your Android, iOS, OSX and Windows NordVPN clients.
Level of Privacy
The NordVPN logging policy mentions that once we turn on the software, all the transferring data will become encrypted. They will collect information about their website's visitors, to check and improve its performance. They encourage us to use cryptocurrencies to be more secure and offer ways to get possible refunds.
Is NordVPN safe?
How safe it is depends on how you use the service. They won't collect or log traffic data, neither the browsing activity made when being connected to the VPN. The information we provide, like email and payment information, will be stored, but never shared unless it's necessary for the service (like contacting us if there is any problem).
IPv6, DNS and WebRTC IP Leak Test
We tested for IP leaks at https://ipleak.net. NordVPN did not leak our IP through WebRTC and IPv6. It also did not leak the DNS address of our ISP. This is consistent with company claims.
Support
NordVPN provides a Help Center on their website, with plenty of information and tips to solve our potential issues. If that doesn't work, we can send them a message (you can add files or screenshots) to get a response for a specific solution to our issue.
For example, we used their support service to ask a brief question and, despite it was late (23 PM), they answered within 10 minutes. For more urgent issues, they have live chat where we can be attended immediately.
During our testing, NordVPN has launched 3 different updates with improvements to the software (being the latest 6.0.0.0), so it's clear that the team supports and keeps their products up-to-date.
FAQ
Where are NordVPN servers located?
NordVPN servers are located all over the world. With its 5500 servers worldwide, NordVPN is the leader in terms of server locations.
Can NordVPN block ads?
Yes, NordVPN has a built-in ad-blocker, that works really well.
Can NordVPN bypass Netflix?
Yes, NordVPN can bypass Netflix. With the SmartPlay feature, you can circumvent geo-restrictions easily.
Pros
Good stable speeds
Number of servers and locations
Netflix support
Low price
Streamlined and up to date software across all devices
Cons
Some servers are not so fast
NordVPN
Safe/open internet — Enjoy the benefits of VPN!
Get secure and private access to the internet