PrivadoVPN Reviews | Netflix & P2P Friendly
PrivadoVPN

Summary
PrivadoVPN is a newcomer, still in the early stages. While owning all of their servers, it's clear they are building their network the right way. All while guarding your privacy with a zero-log policy and strict Swiss privacy laws. Providing you a reliable, secure network with trusted technologies, good VPN apps, and premium features like Netflix support and the industry's fastest SOCKS5. Try the free PrivadoVPN and see for yourself.



Who are they? Where are they from?
PrivadoVPN's words:
PrivadoVPN was founded to meet the growing need for personal privacy on the Internet, constantly expanding into our daily lives. We think that everyone should have an easy, secure, and affordable way to browse the Internet.

Although PrivadoVPN is young, as a Switzerland-based company, we're able to operate protected by the world's best privacy laws, and our trusted team is composed of security experts and passionate programmers who believe in a free and open Internet. Our people have been fighting for almost 20 years against Big Brother and "free" online services that lure you in to monetize your online activity.
Price / Packages
Package Configuration
Each package provides the same features, listed below, which are:
Zero-log VPN
Protected by Swiss Privacy Laws
Premium Proprietary Netwerk
Global VPN Server Netwerk
Fast Speeds
End-to-end Encryption
Free, Easy to Use Apps
Unblocks Global Streaming
P2P Support
IP Leak Protection
Kill Switch
Connect 10 Devices Simultaneous
24/7 Customer Support
The Ordering Process
To order a package, you are asked to enter your email address. You will then go to the payment page. When all requested data has been entered and sent, you'll get an email with login information.
Payment Options
PrivadoVPN supports different Credit Cards (VISA, Mastercard, Discover) and PayPal.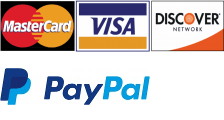 Packages
1 Month: $7.99
1 Year: $59.88 – $4.99 per month
Free Account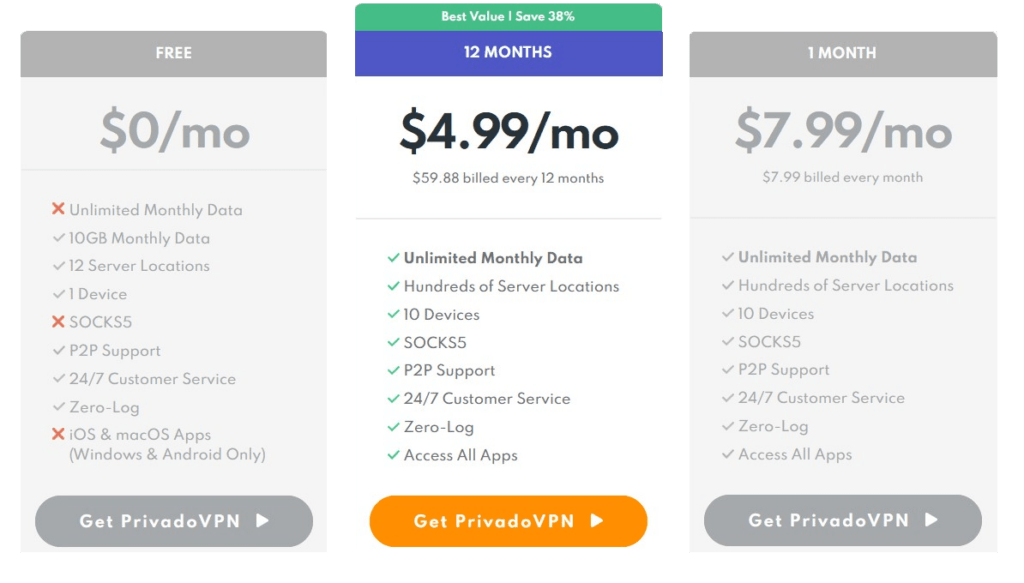 Software & Connectivity
The PrivadoVPN applications are straightforward to install and use. When you sign up on their website or through the app itself, you will be assigned a random username and password. All you have to do is download the app for Windows, Android, macOS, or iOS and log in.
If you want to use PrivadoVPN with a Linux system or install it directly to your router, their website has extensive guides that will help you secure all of your devices.
Does PrivateVPN work with Netflix?
By connecting to a PrivadoVPN server in a remote location, you can convince major streaming platforms like Netflix, BBC iPlayer, Amazon Prime Video, Hulu, Hotstar, and more that you are located there. This will allow you to access region-locked content.
Windows Client
The tested client version 2.0.17 is stable, and we had no issues on Windows 10 x64. After installation, you can connect to a server. The client proposes the best location with the fastest speeds. Funny detail is that this location was different between the Windows and iOS clients. The Windows interface chose the fastest one and the iOS app the closest server.
Unfortunately, the interface is not intuitive and very practical. It's stuck in the right corner of your taskbar, and we would like to see a movable, bigger window screen that you could maximize. Add the server search bar right at the start, and you are done.
On the other hand, the interface is easy to use. Besides choosing a server, you have 2 VPN protocols to choose from (IKEv2 and Open VPN, either UDP or TCP) and an option to let the app automatically choose it for you.
Other options that can be enabled or disabled are the Auto-start, Auto-connect, and Kill-switch.
Mac OSX Client
The Mac OSX client is similar to the Windows client. In fact they are all almost identical.
Android App
We tested the Android app version 2.1.2225094-2225094 on a Huawei Y6 running Android 9. The installation was smooth. The server list doesn't indicate the best server location as the Windows and iOS clients do. So you have to choose a server yourself and find out which one is faster. Besides this small remark, the app is identical to the other clients.
The app has an auto-start and auto-connect option, and you can choose VPN protocols. You can let the app decide what the best protocol at that moment is or manually choose between IKEv2 or OpenVPN. With all clients, you can choose the best, previous, or random location in the auto-connect option.
iOS App
We tested version 1.0(149) on an iPad Air. Installation was quick and easy, and the app immediately proposed the best location, which it showed at the top of the server list. The app works very intuitively. Although there is a significant speed reduction as with the other interfaces, it didn't cause any problems. Video streaming etc., worked fine.
Connectivity Options
With all clients, you have the same VPN protocol choices. They are IKEv2 and OpenVPN (UDP), and OpenVPN (TCP) as protocols. You can even choose different ports. Some programs, such as BitTorrent-based applications, require many connections, so using OpenVPN UDP is highly recommended when, for example, the TCP wouldn't work okay as too many connections are being made.
SOCKS5 is well supported and is the fastest option which is very suitable for fast video streaming and P2P traffic.
Unfortunately, PrivadoVPN is still working on the Wireguard protocol support, which will be a huge improvement in security and speed over the older protocols.
During the first day of testing, we experienced a dropped connection in the Windows client. A notification announced we were now unprotected. Only after shutting off the Privado client and starting it back up could we establish a new VPN connection.
Speed
Our standard and most reliable testing methods that we found are by downloading from the nearest and fastest HTTP or FTP link for 60 seconds and measuring the average and max transfer rate. Upload and ping tests are performed by the closest beta.speedtest.net server, the most accurate HTML5 speed test thanks to 3000+ servers worldwide.
Speed Testing
We used different PCs for the tests, one connected in The Hague, the Netherlands (600/50 Mbps cable connection), and the other in Moscow, Russia (300/300 Mbps fiber connection).
The fastest VPN protocol IKEv2 is used in testing.
Results without VPN in The Hague, the Netherlands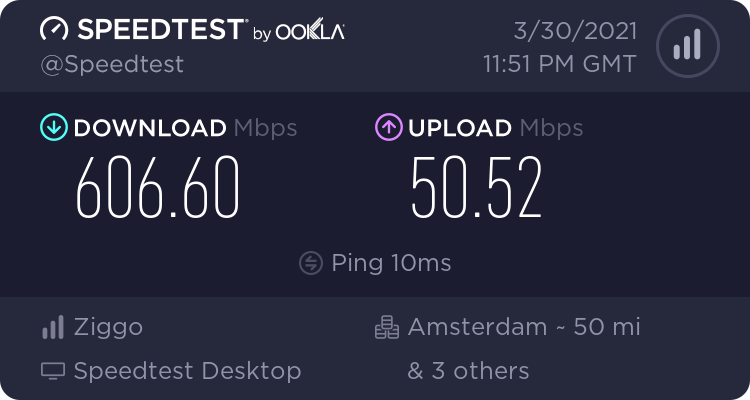 Results WITH VPN in The Hague, the Netherlands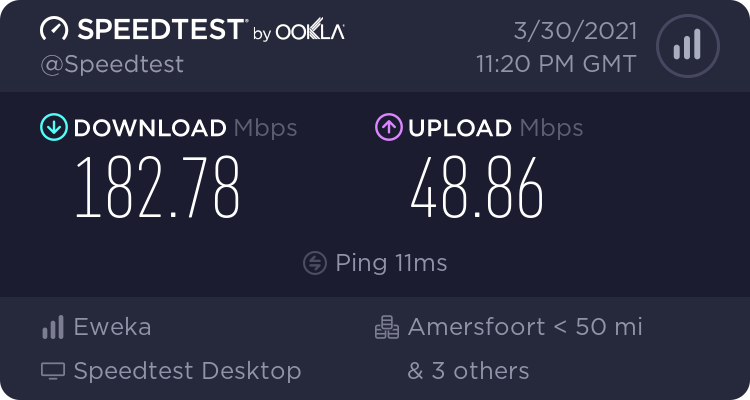 Results SOCKS5 Proxy (Amsterdam) in the Netherlands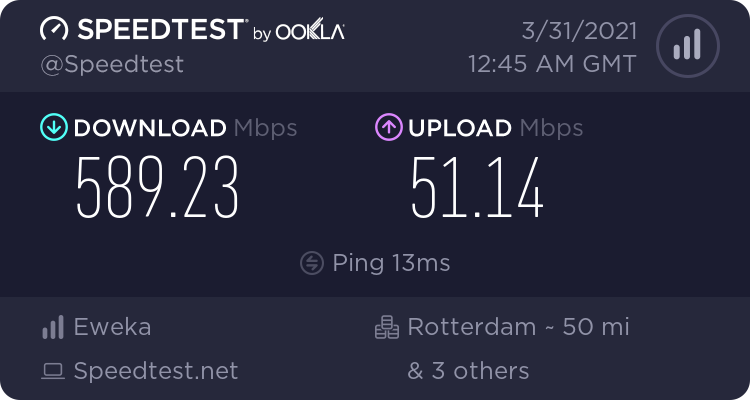 Results without VPN in Moscow, Russia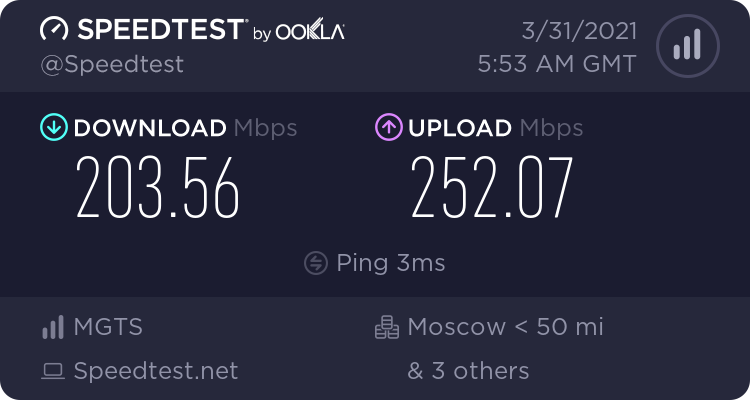 Results WITH VPN (best server) in Moscow, Russia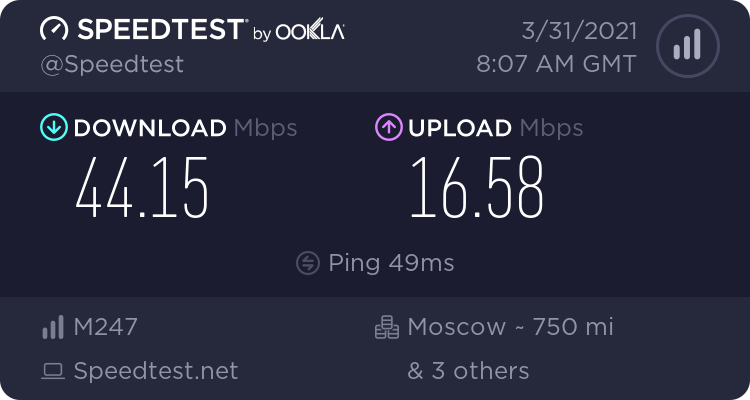 Results WITH VPN (NL server) in Russia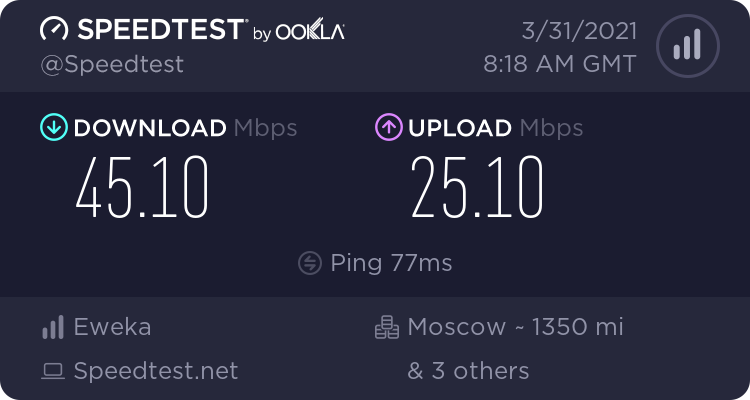 Results SOCKS5 Proxy (Amsterdam) in Russia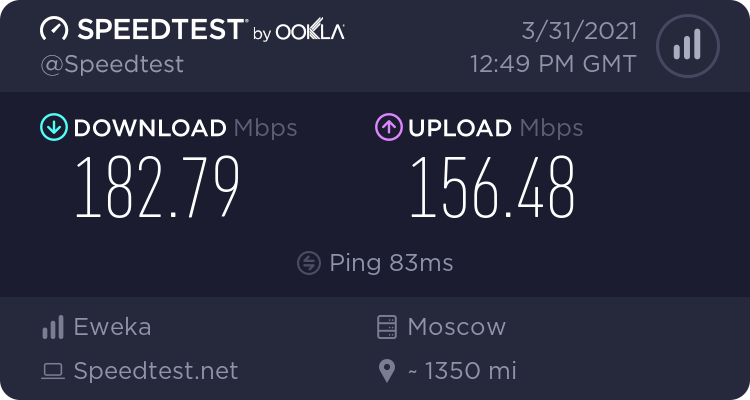 Speeds are stable but there is a significant reduction in internet speed.
Generally, we don't get blazing fast speeds of 200+ Mbps, especially compared to NordVPN and Surfshark, but it is definitely sufficient. When you pick the right server, you can mostly enjoy speeds between 100 – 180 Mbps. We didn't find servers with insufficient speeds.
The SOCKS5 proxy is, on the contrary, very fast, with barely any internet speed reduction. There is a separate list with proxy servers in your PrivadoVPN account. I think we will be impressed when their Wireguard protocol is implemented.
Servers
PrivadoVPN offers over 200 server locations in 45 countries and 58 cities worldwide. They are regularly adding new servers and locations at no added cost to users.
A notable feature is that PrivadoVPN owns all the VPN servers they use worldwide. This gives them the edge over most competitors, who mostly rent servers at the expense of security.
With more than two decades of running huge server network services, they built a strong, tried, and tested network infrastructure for their VPN department.
Server Locations
Reliability
According to one of our testers, there was one connection drop with the IKEv2 protocol. There appeared to be no issues with the OpenVPN connections. If there were, the Kill Switch feature would ensure that we didn't accidentally send any unencrypted data unnoticed.
Level of Privacy
PrivadoVPN never keeps logs of user activity or what IP addresses you connect to. This is important for those concerned about privacy because there are no records kept of what you do online while using their network.
Besides being established in Switzerland, a country with the tightest privacy laws, there is nothing to give to authorities with a zero-log system. To confirm this claim, an independent audit of their systems is on the way.
Is PrivadoVPN safe?
How safe it is, depends on how you use the service. PrivadoVPN keeps your IP address private. As soon as you connect to the PrivadoVPN network, your IP address is hidden. Even your ISP only sees that you are connected to a server but no longer knows what you're doing on the internet.
PrivadoVPN does not maintain any logs of your internet activity. And if there aren't any logs, they can't be hacked, stolen, or confiscated by anyone.
IPv6, DNS and WebRTC IP Leak Test
We tested for IP leaks at https://ipleak.net. PrivadoVPN did not leak our IP through WebRTC and IPv6. It also did not leak the DNS address of our ISP. This is consistent with its claims.
Support
PrivadoVPN's customer support is based on three pillars.
Knowledge Base
Contact Support
Installation Guides
If you encounter a problem, the easiest way is to check if this is a known problem and a detailed explanation and solution are available. The PrivadoVPN Knowledge Base is a collection of such solutions.
For any other problems, PrivadoVPN offers live Contact Support ready to understand your problems and help you solve them 24/7 with Email Support.
Installation Guides, provide you a step-by-step guide for installing your clients and apps.
FAQ
Is Privado VPN any good?
PrivadoVPN is a very safe VPN that focusses on your privacy. Protected by Swiss privacy legislation and owning all of its servers, make Privado stand out.
Is Newshosting any good?
Newshosting is one of the best Usenet providers, and with PrivadoVPN it became even better.
Which is the best VPN?
The u003Ca class=u0022wpil_keyword_linku0022 href=u0022https://incognitoline.net/best-vpn-services/u0022 title=u0022best VPNu0022 data-wpil-keyword-link=u0022linkedu0022u003Ebest VPNu003C/au003E is still NordVPN followed by Surfshark. But PrivadoVPN is a growing service with a solid foundation and a sturdy approach to concur the market.
Pros
Free Zero-Logs VPN – 10GB Monthly Data
Swiss-based company (strong privacy laws)
Own (not rent) servers with AES-256 encryption
Works with streaming services like Netflix, BBC iPlayer, and Hotstar
Easy to use apps
P2P traffic friendly
Fastest SOCKS5 proxy
Kill Switch
Cons
Currently not as many servers as other VPNs
No Wireguard protocol yet
No Bitcoin / cryptocurrency payment
PrivadoVPN
Fast and Secure VPN You Can Trust
Sign Up for a Premium Account Today