Who are they? Where are they from?
IPVanish's words:
IPVanish was officially launched at the beginning of 2012.  The international team behind IPVanish, however, has been together for over 15 years and includes some of the absolute best networking and security minds in the world.  During that time, they've accomplished huge network, content delivery and security feats and have built and managed over 2,200 Gbps of average sustained traffic.

This is an extremely knowledgeable, high performance and passionate group that is today solely focused on delivering faster, more secure and more reliable VPN service than any other provider.  Sophisticated 3rd party testing shows also that IPVanish delivers the fastest VPN encryption throughput speeds (much faster in many cases) among all providers in the industry.

IPVanish's mission is to protect individual's right to online freedom and online anonymity by delivering the best VPN service in the world at the best price, period. We are US based.
Price / Packages
The Ordering Process
According to IPVanish:
To test their claim, I ordered a package with Paypal. In this case they only asked to enter a username, password and email address. After submitting my info and making the payment, the VPN access details appeared in my inbox.
Payment Options
As far as payment methods, PayPal, all major credit cards and World Pay (i.e iDeal, giropay, etc) are accepted. Bitcoin (Bitpay) support has just recently been added.
Package Configuration
Three pricing plans are currently offered and they all have the same features below.
Free Award Winning IPVanish VPN software
100% Online Security
No Logging
Wi-Fi Hotspot Protection
NAT Firewall
Hide Behind 14,000+ IPs
135+ servers in 59 countries.
OpenVPN, PPTP, L2TP
VOIP Support
7-day Money Back Guarantee
1 Month: $10.00
3 Months: $26.99
1 Year: $77.99
Incognitoline offers you a 20% discount on any plan you choose. This effectively brings the pricing all the way down to $5.19/mo when you buy a year ($7.19 when you buy 3 months and $8 when you buy 1 month).
Software & Connectivity
IPVanish currently offers Windows, Mac OS X , iOS and Android clients. The VPN clients make it easy to connect, since you don't have to configure much. But the biggest advantage is that you can easily switch between servers.
Windows Client
Once you open the client it will ask your for your login and password. The list of servers are presented in a clean and easy to use interface. You can sort the list by city, country, server and response time. For example you want to connect to a server in Latvia, you can just type the letter "L" to quick jump to the country Latvia instead of searching and scrolling in the list. All there is left to do is clicking the big "connect" button. Once connected, it will show you the city, country and IP address. You can choose between OpenVPN (TCP), OpenVPN (UDP), L2TP & PPTP protocol.
In the menu "connection" you can check the log and your current IP address location on the map. The "preferences" menu gives you the option to automatically connect to the last used server, closest server by network latency or a server of your choice with the desired protocol when IPVanish starts. When right-clicking the taskbar icon it will present you with "Disconnect", "Connect" and "Exit". Would have been neat if it also showed the current location and IP address so you don't have to bring up the main interface if you sent it to the tray.
Furthermore, it would have been handy if the server list also displayed the current load so you don't connect to a server which is at it's peak which might impact your speed.  Should also be good to know the server connected to displayed next to the location. The tested client v1.3.1.31 is stable and did not present any issues on Windows 8.1 x64.
Android App
The IPVanish Android app v1.0.13 has been tested on Android 4.4.2 without any issues. OpenVPN protocol is used and you can sort the server list by country and response time. When connected it shows your current down/upload speed with a nice graph. The speed is also shown in the notification bar. Strangely, you have to disconnect from the connected VPN server before you can browse the server list again.
Download IPVanish for Android devices and view more screenshots.
iOS App
The IPVanish iOS app v1.2 has been tested on an iPad running iOS 7.1.2 without issues. The iOS app works on the iPhone as well. It is completely different from the Android app, not a streamlined cross platform experience. You can choose between the L2TP & PPTP protocol. You can only choose a server by city but not an individual server in the same city like for example Amsterdam. No response time is shown.
Due to the limited nature of iOS, you have to connect from the iOS configuration screen once you have selected a server from the app. It would have been better if IPVanish installed all server certificates at once.
Download IPVanish for iOS devices and view some screenshots.
Connectivity Options
They offer PPTP, L2TP and OpenVPN. OpenVPN has UDP and TCP options on ports 443 and 1194. When using applications such as BitTorrent where many connections are made, I recommend the OpenVPN UDP protocol. The TCP protocol has a connection limit so your VPN connection can be dropped when too many connections are made. Without issues, I was connected on my Android device and desktop computer at the same time with the OpenVPN protocol.
Speed
I have tried many speed test sites like speedtest.net but they are unreliable when used with a VPN or proxy. Therefor, results of reviews using sites like speedtest.net can not be trusted. That's why I'm testing the old-school way by downloading from a fast http link and uploading to a remote FTP server. This method is reliable because it's a real world scenario.
Speed Testing
The test is performed with a 180 / 18 Mbps cable connection in Amsterdam area. For the download speed test a Ubuntu ISO is downloaded from University of Twente, The Netherlands. For the upload test a file is uploaded to a server in the Netherlands. Keep in mind that my max upload speed is only 18 Mbps so it does not mean the VPN can't go faster if it reaches it.
Ping is performed on the download server, University of Twente, The Netherlands. NetWorx Speed Meter is used for monitoring. Download link used for test: http://ftp.snt.utwente.nl/pub/os/linux/ubuntu-releases/13.10/ubuntu-13.10-desktop-amd64.iso
Results without VPN
Downloading @ 180 Mbps
Uploading @ 18 Mbps
Ping statistics for 130.89.149.20:
Packets: Sent = 4, Received = 4, Lost = 0 (0% loss),
Approximate round trip times in milli-seconds:
Minimum = 10ms, Maximum = 14ms, Average = 11ms
Results IPVanish connected to Netherlands, ams-a02
Downloading @ Average Transfer Rate 103 Mbps – Maximum Transfer Rate 120 Mbps
Uploading @ 18 Mbps
Ping statistics for 130.89.149.20:
Packets: Sent = 4, Received = 4, Lost = 0 (0% loss),
Approximate round trip times in milli-seconds:
Minimum = 12ms, Maximum = 14ms, Average = 13ms
The above results are achieved with the OpenVPN (UDP) protocol. Other protocols and servers reach lower speeds in my testings.
Number of Servers
Now with over 135 servers in 59 countries and 73 cities. Includes the following countries:
Albania
Argentina
Australia
Austria
Belgium
Brazil
Bulgaria
Canada
Costa Rica
Croatia
Czech Republic
Denmark
Egypt
Estonia
Finland
France

Germany
Greece
Hong Kong, China
Hungary
Iceland
India
Indonesia
Ireland
Italy
Japan
Latvia
Lithuania
Luxembourg
Malaysia
Mexico
Moldova

Netherlands
New Zealand
Norway
Panama
Poland
Portugal
Romania
Russia
Saudi Arabia
Serbia
Singapore
Slovak Republic
Slovenia
South Africa
South Korea
Spain

Sweden
Switzerland
Thailand
Turkey
Ukraine
United Kingdom
United States
Reliability
The connections are made quickly and remain stable. Have not experienced a single connection drop. PPTP protocol connects the fastest but it is less secure and has a lower throughput. When you are logged in your IPVanish account and click on "server list", you will get to see all the available servers and their status (server load).
Level of Privacy
IPVanish logging policy: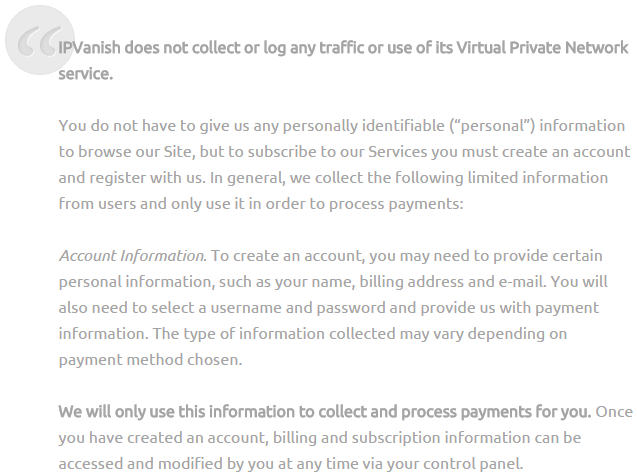 Besides not logging anything when using the VPN, IPVanish VPN has shared IP addresses, meaning there can literally be 20 people using 1 IP address (without compromising your own speed and security). A shared IP address makes it nearly impossible to single out any one person's web activity.
Support
IPVanish states:
Their FAQ's will answer most of your questions and the VPN Setup provides all the configuration steps you might need. The support forum can be of help as well.
I contacted them by email and got a friendly and quick reply within 70 minutes.
Pros
Nothing is logged
Great speeds & stability
Large amount of servers worldwide
Cons
The software across the devices is not streamlined, iOS app is somewhat underwhelming